Guarantees that the cables it manufactures conform to TIA/EIA - 568 - B.2-1 and ISO/IEC 11801 version 2 for categories 5e and 6

Guarantees its patch cords for 25 years on category 5e and 6 channels from any cabling system manufacturers following the rules of Interoperability.






All category 5e and 6 cabling system components from different manufacturers must be interoperable and fully compatible with lower categories.

The standard specifies the component of a cabling system with :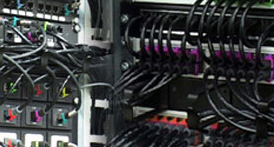 The PERMANENT LINK which comprises an RJ45 outlet, a 4 pair horizontal cable and RJ45 sockets on the patch panel

The RJ45 PATCH CORDS

The CHANNEL comprises the permanent link with an RJ45 patch cord at each end

The standard defines the electrical characteristics for each component. It defines limits and test procedures for the patch cords to certify the transmission performance of the patch cords and the permanent link : near end crosstalk (NEXT) and return loss (RL)

This makes it possible to measure, test and prove the compatibility of the various components which are assembled to form a channel.

When installing a new system, users should ask their suppliers for a permanent link certification as this fixed part of the network may be used for 7 to 12 years.

By making a firm commitment to EIA/TIA 568-B2.2-1 and ISO/IEC 11801 conformity, PatchSee ensures the compatibility and quality of its cables used on a cabling system.





Guarantee certificate